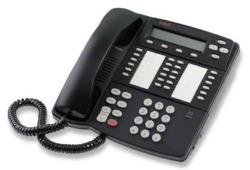 Businesses looking for top quality Avaya phones at an economical rate will love the Merlin Magix 4424D+ telephone. It boasts all the features demanded by today's workforce.
Telcom & Data, a leader in business phone systems, is pleased to offer refurbished Merlin Magix 4424D+ phones. The units have been fully restored and are in "like new" condition. Telcom & Data is now offering the phones at a fraction of the original price.
The Merlin 4424D+ delivers all the features required for today's professionals. The phone boasts 24 programmable buttons as well as hold, transfer, redial, and mute keys. Users are able to participate in conference calls with up to five individuals – two external and three internal parties. A two-way speakerphone and headset interface offers the convenience of hands-free communication. Additionally, the unit has a 2-line by 24-character LCD display that shows an alarm clock and timer, business directory, and caller id.
When Ricardo Trinidad, President of Telcom & Data, was asked about the Merlin Magix 4424D+ phones, he said, "We are really happy to offer Refurbished phones from Avaya. Sometimes we get calls from customers that are looking for other brands because they don't think they can afford Avaya. That's when I tell them about our refurbished options and my quality guarantee."
For more information about the Merlin Magix 4424D+ phones, visit Telcom & Data's website or call 1-800-335-0229. Telcom & Data also carry numerous other Avaya products including IP Office and Partner phones.
About Telcom & Data: 
Since 1996 Telcom & Data has been providing thousands of telecommunication solutions to organizations around the world to measurably improve communications. The company is a leading provider of video conferencing equipment, business phone systems, and mass notification products. Telcom & Data maintains a network of over 1500 technicians with locations in Chicago, Milwaukee and Miami.
About Avaya: 
Avaya is a leading global provider of next-generation business collaboration and communications solutions, providing unified communications, real-time video collaboration, contact center, networking and related services to companies of all sizes around the world.